Tthis tutorial, you are going to learn how to download whole collections of pictures with just a few clicks using
OutWit Hub
.
If you have ever surfed the Web in search of images to illustrate a presentation, get photos of your favorite stars or simply cool desktop backgrounds, you know that collecting large series of images and saving them to your computer can be tedious especially if you have to download them one by one. (See also OutWit Images)


With Outwit Hub, you can do this with the simple click of a few buttons.
download all web image
0.

Install the Extension
Before you can start using Outwit Hub, you will need to install Firefox 3.
To download it, click here.
After installing Firefox 3, you can download Outwit Hub by clicking

here

.
If the installation isn't performed automatically, find the downloaded .xpi file, open it with Firefox (or drag it to the Firefox window) and follow the instructions.
1.

Launch OutWit Hub

Open Firefox 3.0 and then

click the OutWit Button

in the Firefox toolbar.
If the icon is not visible, in the menu bar,

select Tools -> OutWit -> OutWit Hub



OutWit Hub will open to the Web page currently loaded in Firefox 3.0.
2.

Select the Web Page

In the address bar, type the URL of the website you want, or type any string to search and OutWit Hub will look for it using the preferred search engine selected in Firefox.
In this example, let's grab pictures from the photo gallery contained on:
In the "Page" view, you can see the Web page as you would in any ordinary Web browser.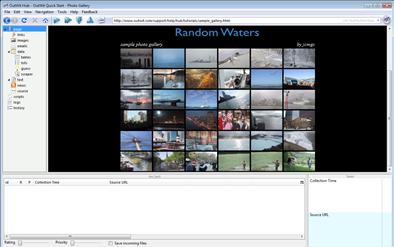 Select the "Images" view.
3. File - save Web Image file

:D